BTM Announces Retirement of Bruce Kuhn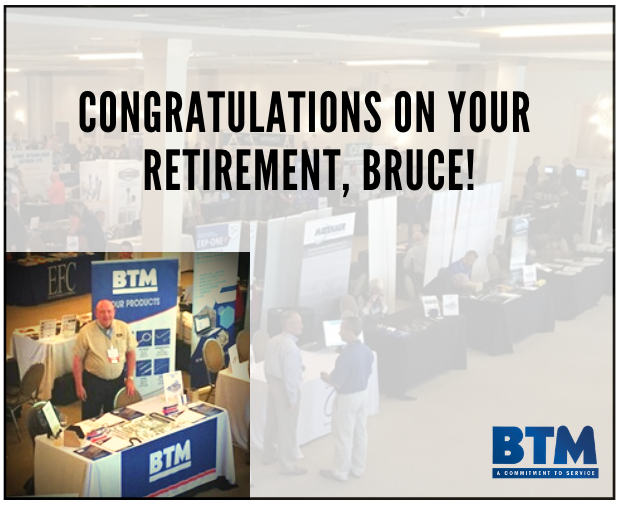 PRESS RELEASE – Bruce Kuhn Retires from BTM Manufacturing
BTM Manufacturing would like to extend our heartfelt congratulations to Mr. Bruce Kuhn. Over the years, Bruce has shown a tremendous amount of dedication, hard work, and commitment to our customers each and every day.
Bruce joined BTM Manufacturing as an outside sales representative five years ago and played a key role in expanding and growing the business. Bruce was a staple at industry tradeshows and traveled nationwide for face-to-face meetings with customers. As he reflected on his time at BTM, Bruce highlighted the part he will miss most… relationships, in which he has always shown exemplary strength in amongst customers and colleagues.
"Working with the team at BTM and ISSCO, Inc. has been very rewarding. Over the last nine months I have missed and will continue to miss the direct contact with customers and friends I have made and worked with over the last five years. Good luck to everyone in 2021," concluded Bruce Kuhn.
Jake Davis, President of BTM Manufacturing spoke about Bruce and his retirement, "I am extremely grateful for the contributions Bruce made on the behalf of BTM Manufacturing. He definitely went all in from day one with BTM, and I could not have been happier to work and travel alongside him. He truly missed the interaction with his customer's, and I want to wish him the absolute best during his retirement."
BTM will be monitoring Bruce's email address for a short period of time, however we would suggest you add our general email address for future reference: This email address is being protected from spambots. You need JavaScript enabled to view it.
###
About BTM Manufacturing.
BTM has been serving customers throughout North America for over 50 years. As an ISO 9001-2008 certified company, we are continually striving to meet, and exceed, our customer's expectations. We are in constant pursuit of quality, value and reliability improvements in the products and services that we provide to our customers.
Today, BTM is a leading manufacturer of bent and threaded products. Our capabilities include U-bolts, J-bolts, studs, anchor bolts, eye bolts and bent/threaded product manufactured to custom specifications. Our size range from 3/16" through 4" diameter in a variety of ferrous and non-ferrous materials, coupled with our extensive array of production equipment, give us manufacturing capabilities that are unparalleled in our industry.
From threading and bending to welding and drilling, BTM has the highly trained and experienced staff to ensure that your product is made to specification and is delivered on time.
###
Related Posts
By accepting you will be accessing a service provided by a third-party external to https://www.btm-mfg.com/