BTM Manufacturing Joins Pacific-West Fastener Association

Immediate Release – August 23, 2018, Kansas City, Missouri – BTM Manufacturing is proud to announce our membership to Pacific-West Fastener Association, based in Seal Beach, CA. The Pacific-West Fastener Association was created in 2009, as a unification of the Los Angeles Fastener Association and the Western Association of Fastener Distributors. The core purpose of Pac-West is to strengthen our member companies through educational opportunities, alliances, advocacy, and highly effective relationships.
"As BTM Manufacturing continues to expand throughout the country, and with the positive things I have heard over the years regarding the Pacific-West Fastener Association, I felt it was necessary to become an active member. I look forward to meeting many new distributors and having the opportunity to share with them how BTM Manufacturing can service their bent wire and threaded fastener needs," said Jake Davis, President of BTM Manufacturing.
Pac-West's mission is to provide our members with opportunities for member company interaction, education, fastener news and up-to-date information. BTM Manufacturing is looking forward to the continued relationship with Pacific-West and its members.
###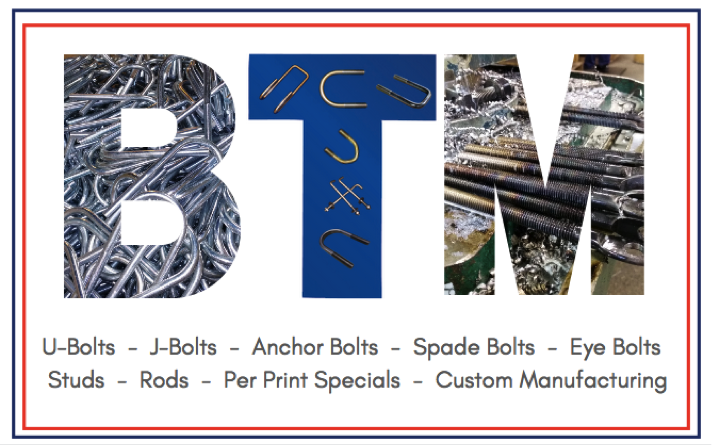 About BTM Manufacturing.BTM has been serving customers throughout North America for over 50 years. As an ISO 9001-2015 certified company, we are continually striving to meet, and exceed, our customer's expectations. We are in constant pursuit of quality, value and reliability improvements in the products and services that we provide to our customers.
Today, BTM is a leading manufacturer of bent and threaded products. Our capabilities include U-bolts,
J-bolts, studs, anchor bolts, eye bolts and bent/threaded product manufactured to custom specifications. Our size range from 3/16" through 4" diameter in a variety of ferrous and non-ferrous materials, coupled with our extensive array of production equipment, give us manufacturing capabilities that are unparalleled in our industry. From threading and bending to welding and drilling, BTM has the highly trained and experienced staff to ensure that your product is made to specification and is delivered on time.
Related Posts
By accepting you will be accessing a service provided by a third-party external to https://www.btm-mfg.com/