BTM Manufacturing Press Release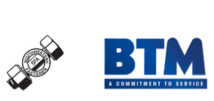 BTM Manufacturing
15403 Andrews Road
Kansas City, MO 64147
www.btm-mfg.com
January 13, 2020
PRESS RELEASE
BTM Manufacturing is pleased to announce that Jake Davis will be serving as President of the Southwestern Fastener Association this coming year. SFA has supported the fastener industry since1975 with members from across the United States. SFA's membership is comprised of distributors, manufacturers, importers, processors, technology and independent sales reps. Their goal is to provide membership with avenues to create business opportunities through annual meetings, social events, conferences and educational opportunities.
"I am honored and thrilled to be continuing my term with the Southwestern Fastener Association. As President, I look forward to working with our Chairman, Neal Gordon and the Board of Directors. With this being my third year on the Board of Directors, I have been an eyewitness to the growth and momentum throughout our association. Our entire board is loaded with active fastener industry leaders and we are eager to share our passion with distributors and suppliers throughout the Southwest and beyond. It is going to be great year in the SFA and I am excited to get things started at our SFA social down in Houston."
For more information on SFA and the upcoming events, visit www.southwesternfastener.org. For more information on BTM Manufacturing, please visit www.btm-mfg.com.
###
About BTM Manufacturing.
BTM has been serving customers throughout North America for over 50 years. As an ISO 9001-2008 certified company, we are continually striving to meet, and exceed, our customer's expectations. We are in constant pursuit of quality, value and reliability improvements in the products and services that we provide to our customers.
Today, BTM is a leading manufacturer of bent and threaded products. Our capabilities include U-bolts, J-bolts, studs, anchor bolts, eye bolts and bent/threaded product manufactured to custom specifications. Our size range from 3/16" through 4" diameter in a variety of ferrous and non-ferrous materials, coupled with our extensive array of production equipment, give us manufacturing capabilities that are unparalleled in our industry.
From threading and bending to welding and drilling, BTM has the highly trained and experienced staff to ensure that your product is made to specification and is delivered on time.
###
For more information:
Jake Davis, President
(816) 541-2044
This email address is being protected from spambots. You need JavaScript enabled to view it.
Related Posts