BTM Manufacturing Releases Covid-19 Announcement
Dear BTM Manufacturing customers, suppliers, and partners,
Due to the nation's uncertainty and concerns regarding the coronavirus (Covid-19), BTM Manufacturing wanted to address the situation and reiterate our commitment to maintain exceptional service and safety. Our employees and customers are an extension of the BTM family, so the following are being implemented immediately.
At this time, we are maintaining normal business hours (Monday - Friday; 8AM - 5PM). We will ship and deliver orders as normally as possible. For our will call and common carrier pick-ups, we ask that drivers stay in designated areas until orders are ready to be loaded. We asked that posted warning signs be adhered to. We apologize, but our restrooms and common areas are closed to all visitors.
Effective immediately, all business travel has been suspended. This includes in-person sales calls, trade shows, and conferences.Our warehouse and office areas are being deeply cleaned and disinfected on a nightly basis.All receiving delivery drivers will have limited access within the facility.Implementing an internal social distancing policy with reduced movement and employee interactions throughout the office.Mandated safety protocol that requires additional hand washing, hand sanitizing, and routine wipe downs on all surfaces.
Each department within BTM continues to be reachable via email and phone. We will maintain our customer service-driven focus throughout this time of uncertainty, and encourage any questions, concerns or suggestions to be addressed.
The situation is continuing to change each day here in the United States, which can be a very anxious time for all families, businesses, and healthcare employees. We share with you in that, but feel confident in our country as a whole.
We plan to continue communication with you as the situation unfolds. In the meantime, you can rest assured knowing that BTM Manufacturing will maintain our core objectives, even as the country business and economic landscape changes.
Stay healthy and safe,
The BTM Manufacturing Team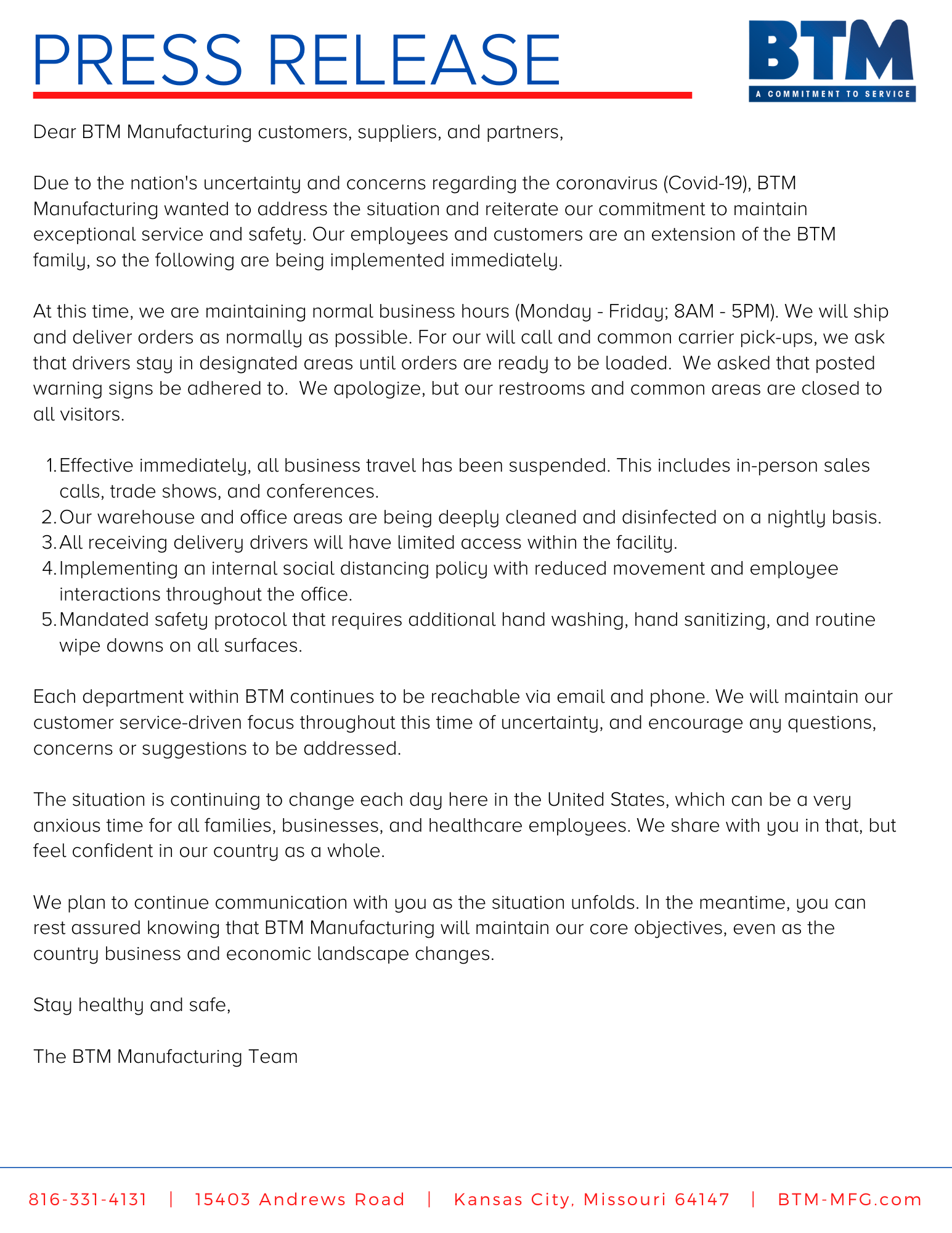 Related Posts