BTM Manufacturing to Exhibit at STAFDA's Annual Convention & Trade Show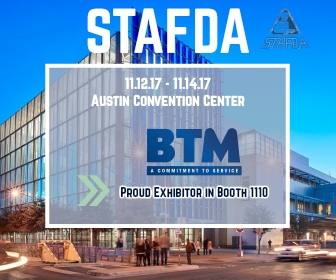 Immediate Release – October 24, 2017, Lee's Summit, Missouri – BTM Manufacturing will join over 600 industry suppliers as they showcase the latest products at the 41st Annual Specialty Tools & Fasteners Distributors Association (STAFDA). This convention offers an educational series for industrial fasteners, tooling and machinery professionals, as well as networking opportunities and a tradeshow with industry suppliers. STAFDA will be held at the Austin Convention Center in Austin, Texas on November 12 – 14, 2017.
STAFDA Annual Convention 2017 will showcase a wide range of products and services related to fastener and tooling sectors from the leading exhibitors. Over 6,000 visitors are expected to attend this event, including distributors, manufacturers, and rep agents of light construction, industrial, and related products. Specialty Tools & Fasteners Distributors Association (STAFDA) is an international educational association comprised of distributors, manufacturers, rep agents, and trade press serving the construction and industrial market.
About BTM Manufacturing. BTM has been serving customers throughout North America for over 50 years. As an ISO 9001-2008 certified company, we are continually striving to meet, and exceed, our customer's expectations. We are in constant pursuit of quality, value and reliability improvements in the products and services that we provide to our customers.
Today, BTM is a leading manufacturer of bent and threaded products. Our capabilities include U-bolts,
J-bolts, studs, anchor bolts, eye bolts and bent/threaded product manufactured to custom specifications. Our size range from 3/16" through 4" diameter in a variety of ferrous and non-ferrous materials, coupled with our extensive array of production equipment, give us manufacturing capabilities that are unparalleled in our industry.
From threading and bending to welding and drilling, BTM has the highly trained and experienced staff to ensure that your product is made to specification and is delivered on time.
Related Posts
By accepting you will be accessing a service provided by a third-party external to https://www.btm-mfg.com/