BTM's President Featured on Fastener Industry Podcast
As a family-owned business serving customers for over 50 years, industry publications look to BTM for manufacturing insights, recaps on the latest tradeshows, and product efficiencies and trends. Fully Threaded Radio reached out to BTM Manufacturing's President, Jake Davis, to be included in the discussion on Episode #121 - This is Your IFE. This podcast is available on iTunes or click here to listen!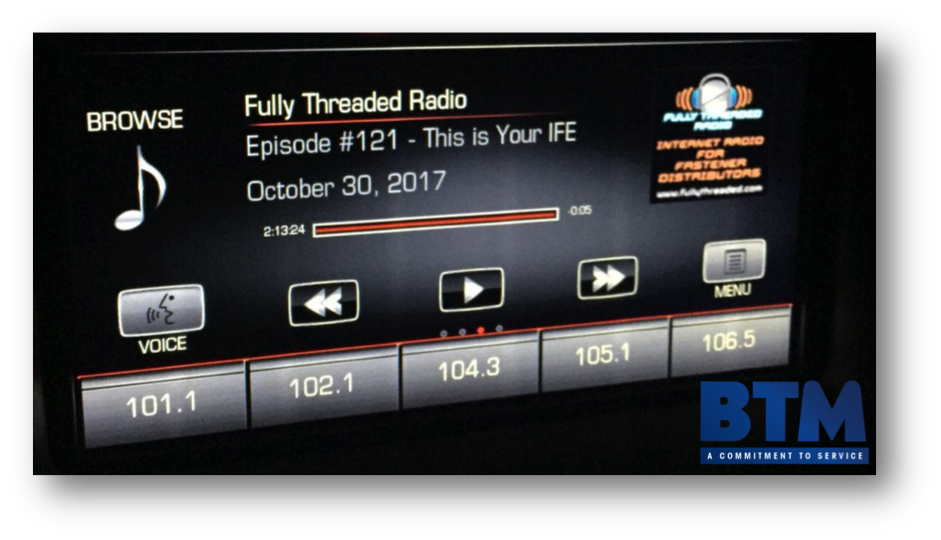 The Fully Threaded episode launched on October 30, 2017, a week after the International Fasteners Expo in Las Vegas concluded. See below for more about the International Fasteners Expo.
As described by Fully Threaded, this landmark podcast will stand as a historic marker of many lives in fastening, industry pro jocks Jake Davis, of BTM Manufacturing, and Baron "Best Beard" Yarborough, of Spring Bolt and Nut, join in for the annual Vegas show round up. Fellow luxury resort connoisseur, Bill Akerfeldt of Lindstrom comments on recent price increases as well as accommodations at the show (31:01). Würth EVP Marc Strandquist evaluates FDI numbers with industry anchor, Mike McNulty, on the Fastener News Report (48:12). Continuing his recent marathon of fastener show seminars, Carmen Vertullo presents an extended Fastener Training Minute, addressing ROCAP testing for structural bolts (1:11:30). Plus, the lovely and talented Lynn Dempsey with interviews aplenty from the show floor. BONUS: What does industry legend, Bill Unferth, have to say about Bill Derry's naughty side...? (2:05:42) Brian and Eric compare notes on spending time in the FCH booth (mostly) for another year.
International Fastener Expo:
The International Fastener Expo (formerly the National Industrial Fastener and Mill Supply Expo) is the Largest B2B of Industrial Fasteners and Tooling & Machinery in North America.
Since 1981, the event continues to bring together the manufacturers and master distributors of fasteners, precision formed parts, fastener machinery & tooling and other related products and services with distributors and sales agents in the distribution chain. Held annually in Las Vegas, Nevada, USA, the event consists of an all-day conference program presented by endorsing fastener associations and a show floor with more than 850 + exhibiting companies from around the world.
Related Posts
By accepting you will be accessing a service provided by a third-party external to https://www.btm-mfg.com/