BTM's Update on International Fastener Expo 2021
BTM Manufacturing Update on International Fastener Expo 2021
For the past several years, BTM Manufacturing has exhibited at the International Fastener Expo. This year has posed several challenges impacting our decision to not exhibit in Las Vegas this month. We, like so many other companies, are experiencing staffing shortages, supplier and product lead times, and shipping delays. At this point, we are choosing to focus our efforts on productivity and order fulfillment. It is certainly not a decision we wanted to make, however, it is the best decision for our employees, families, and customers.

As always, we will continue to support the many industry events over the next several months, and look forward to seeing you all soon.

Craving our signature U-Bolt Blend Coffee? We have you covered!
We know some of you look forward to replenishing your U-Bolt Blend Coffee stash while at the Fastener Expo, so if you need more, please reach out! We'll include some in your next shipment.

Check out the below video from Jake Davis, BTM's President, as he addresses the International Fastener Show.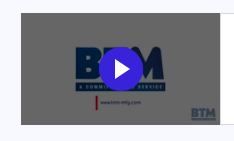 Related Posts
By accepting you will be accessing a service provided by a third-party external to https://www.btm-mfg.com/